AI-Assisted Technology Improves Efficiency at US Radiology's Gateway Diagnostic Imaging Centers in North Texas
March 6, 2023

(TIRAT CARMEL, Israel, March 6, 2023 – PRNewswire) – Medic Vision, a leading provider of medical imaging solutions and Gateway Diagnostic Imaging, a leading independent imaging provider in North Texas, announced the successful completion of their MRI efficiency improvement project.
Gateway Diagnostic Imaging is a local imaging center with 11 locations across North Texas that strives to provide patients with exceptional service. With the increasing demand for MRI scans, Gateway looked for a solution to increase efficiency and productivity while supporting various MRI scanner vendors and models, as well for all body parts and procedures.
After researching the market, Gateway selected Medic Vision's iQMR (intelligent Quick Magnetic Resonance), an AI-assisted iterative image reconstruction software system, that enhances image quality, and enables the use of short MRI protocols.
New short scanning protocols were defined for all body parts, which when combined with iQMR processing, produced images that are as good or better than the original ("long") protocols. Gateway's scheduling system was updated with shorter appointments that enabled improved productivity, resulting in 4 more patients per day per scanner, on average.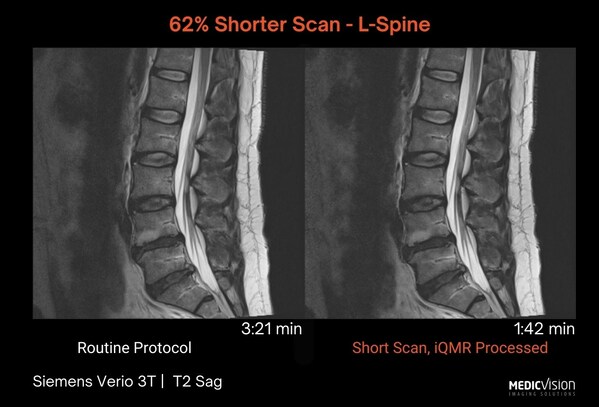 Erin Franklin Gavilanes, Vice President Operations, Gateway Diagnostic Imaging: "We chose Medic Vision as we needed a solution suitable for all scanners while maintaining a high level of diagnostics and service. Since the implementation, our MRI productivity has increased by 22% and we see a significant increase in our throughput while utilizing the same resources."
Eyal Aharon, Medic Vision CEO: "We've been working with Gateway since 2014. We are very proud to continue our long-term relationship with Gateway and provide a solution that enhances operational proficiency, and improves medical services and patients' satisfaction.
"The Imaging market should adopt advanced tools, to overcome the manpower shortage and the economic challenges it faces. AI solutions shall be used for this purpose provided they are tightly integrated with the sites' IT systems (like the scheduling system) and present clear and measurable ROI. We are proud to have proved that in this exciting project."
Medic Vision is the leading innovator of vendor-independent, image enhancement, productivity, and compliance solutions for CT and MRI scanners. Its FDA-cleared innovative products are based on machine-learning-assisted iterative reconstruction algorithms and are in clinical use at over 500 U.S hospitals and imaging centers. www.medicvision.com
Contact: Rotem Koren, Marketing Manager, rotem.koren@medicvision.com, +972524593508
SOURCE Medic Vision